Editor's Note: Pat Dye, a College Football Hall of Fame member and former Auburn athletic director and head coach, writes a weekly column for Inside the Auburn Tigers.
When I watch that Florida game it is a natural thing for me to think back to my coaching career for similar situations and how we handled a tough loss.
In 1989 we lost to Tennessee and Florida State pretty early in the season, but by the end of the year we were probably as good as any team in the country when we finished the regular season with a victory over Alabama, which was ranked No. 2 coming into that game. We finished the year with a 31-14 victory over Ohio State in our bowl game.
The reason that happened was the players and coaches on that team were determined to get better as the season went along and that is what happened. It is what I hope happens with this team as it tries to come back from a really tough loss at Florida. The thing that makes it worse is the way the Tigers lost it. Everybody is blaming themselves. Coach Malzahn is blaming himself, the defensive coaches are blaming themselves and players on offense are blaming themselves.
When you are down after losing a game you really wanted to win and thought you could win, I believe there is only one way to go if you want to reach your potential. The road to success is to become closer as a team and when the Tigers take the practice field they need to be sure they claw, fight and scratch trying to figure out ways to get better. The players need to work a little harder and the coaches need to work a little harder.
There is a lot of football ahead for this team and playing the type of schedule the Tigers face there is an opportunity to make the loss to Florida less significant. With games against three of this week's top ranked teams still to be played vs. No. 1 Alabama, No. 3 Georgia and No. 5 LSU, Auburn's ultimate goal of making it to the playoffs is still attainable if the Tigers are good enough to get there. To get there they have to beat those teams plus Arkansas and Ole Miss. None of those games will be easy. To have a chance to do that they can't dwell on what happened in Gainesville other than study the mistakes and try to keep them from happening again.
Despite the loss I still have a high opinion of the 2019 Tigers. I know we have a lot of exceptional young men playing football at Auburn. The quarterback is one of them and he struggled Saturday, but I think he will be better because of that experience. The next time the Tigers face that type of hostile crowd and a really good defensive football team it won't be new to him.
I give credit to Florida's quarterback, who was really good throwing the ball vs. Auburn and he showed toughness coming back after being hurt. I take exception with Florida's head coach, Dan Mullen, who called Marlon Davidson's hit on Kyle Trask a dirty play, which it certainly was not. The coach needs to apologize.
I saw exactly what happened. If the left tackle had not been holding the defensive end, Marlon would have never hit the quarterback at his legs. The guy had his left hand right into Marlon's front collar and pulled him sideways and down, which forced Marlon's momentum to hit the quarterback low. I am sure the official saw it or he would have called a penalty. He had to see it because was standing right next to the play.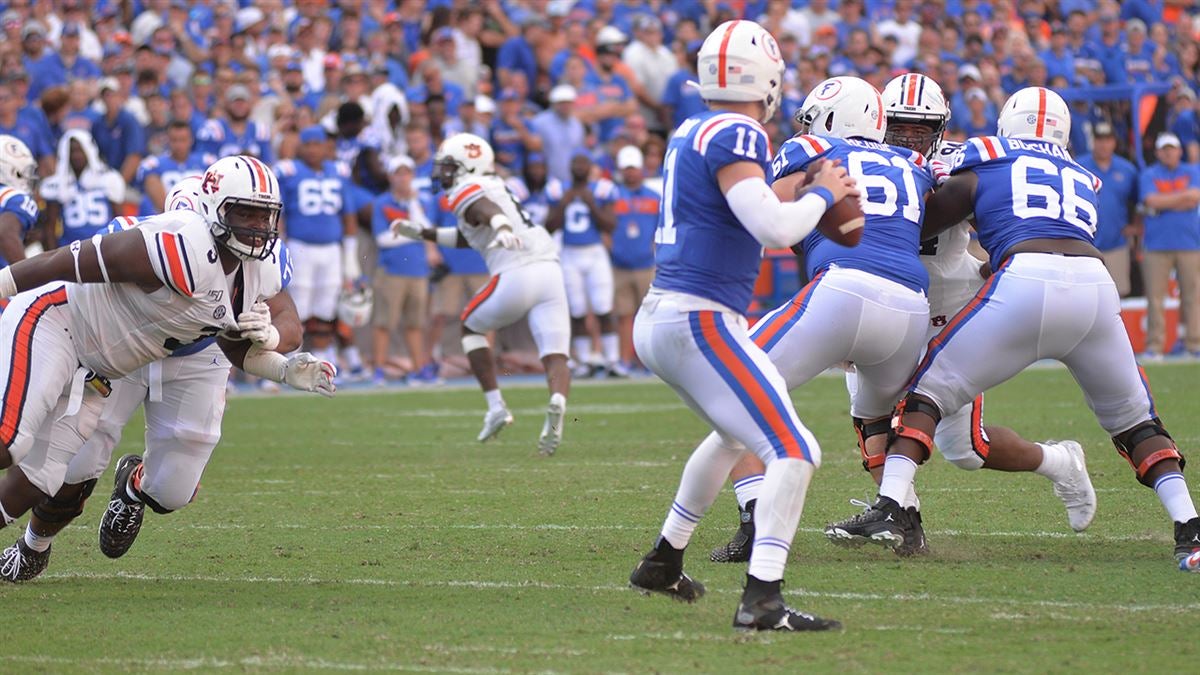 Looking ahead to the second half of the season I am eager to see what the Tigers can do. I think the players and the coaching staff feel the same way despite really hurting about what happened at Gainesville. That coaching staff is plenty good and there are enough good players on this team to make for an exciting and successful season.
*** Get 30% off an annual subscription and receive the latest Auburn recruiting and team scoops ***
*** Get FREE Auburn breaking news in your inbox ***
I hope Auburn people understand the challenge their team is facing playing against what has been ranked as the nation's toughest schedule. Hopefully, the great Auburn fans will step up their game, too, and will be pushing their team forward rather than the team having to pull them along for the ride.
Quail Hollow Gardens
Subscribe to Inside the Auburn Tigers Magazine and Football Newsletter
[ad_2]
Source link